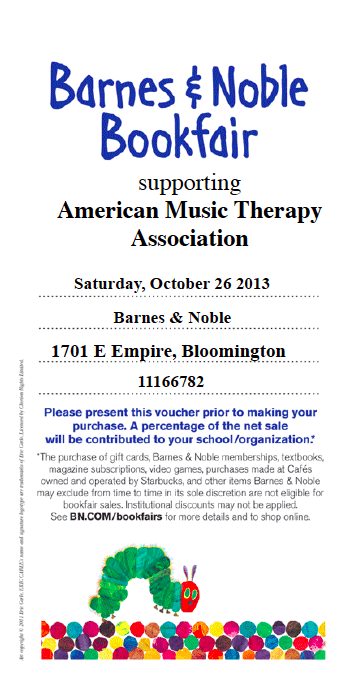 We are hosting a great fundraiser at Barnes and Noble tomorrow, October 26! A percentage of the sales will be going back to The American Music Therapy Association.  This is the culminating event in a two month push for my #mtfrundraising project!
We've had some great projects in the past and I am really looking forward to this one!  I have been waiting several years to team up with my local Barnes and Noble (*for those who don't know, I spent over 8 years working at Barnes and Noble and had I went a different path in my career, would probably be there for another 80.  It was a great place to work, and I have made lasting friendships all across the country, as I have transferred between several different stores).
I know, late notice… my brain has been a ball of mush lately.  BUT, the event is well planned and we have been doing a ton behind the scenes to make this fun for all ages!
We will be having some great events at our local Barnes and Noble here in Bloomington, IL, so if you are reading this and live in the area… take note of this schedule!
10:00am: Tiny Melodies Session (suitable for caregivers and children ages birth to four)
11:00am-1:00pm: Instrument Making: Rainsticks (*limited quantities, so get there early!)
2:00pm: An Interactive Music Making Experience (*Drums) for all ages!
4:00pm: Tiny Melodies Session (suitable for caregivers and children ages birth to four)
All of the activities listed above are FREE!!!!!!! If you choose to make a purchase supporting AMTA, bring the enclosed voucher or tell them you are with AMTA!
BUT WAIT!!!!!! This is NOT just a local event!  Print this voucher and BRING IT TO ANY BARNES AND NOBLE IN THE COUNTRY!  Yep, you read that right!  You can bring this anywhere in the country and support AMTA!  While the activities will not be as fun (although I believe there is a corporate mandated story time for Halloween happening all around), you can still make purchases to support AMTA, just show the voucher!
AND… for those who don't live near Barnes and Noble… you can shop ONLINE and AMTA still wins!!!!!!  Use the voucher number at checkout and you can shop online anytime from 10/26-10/30!
It is a win, win all around!