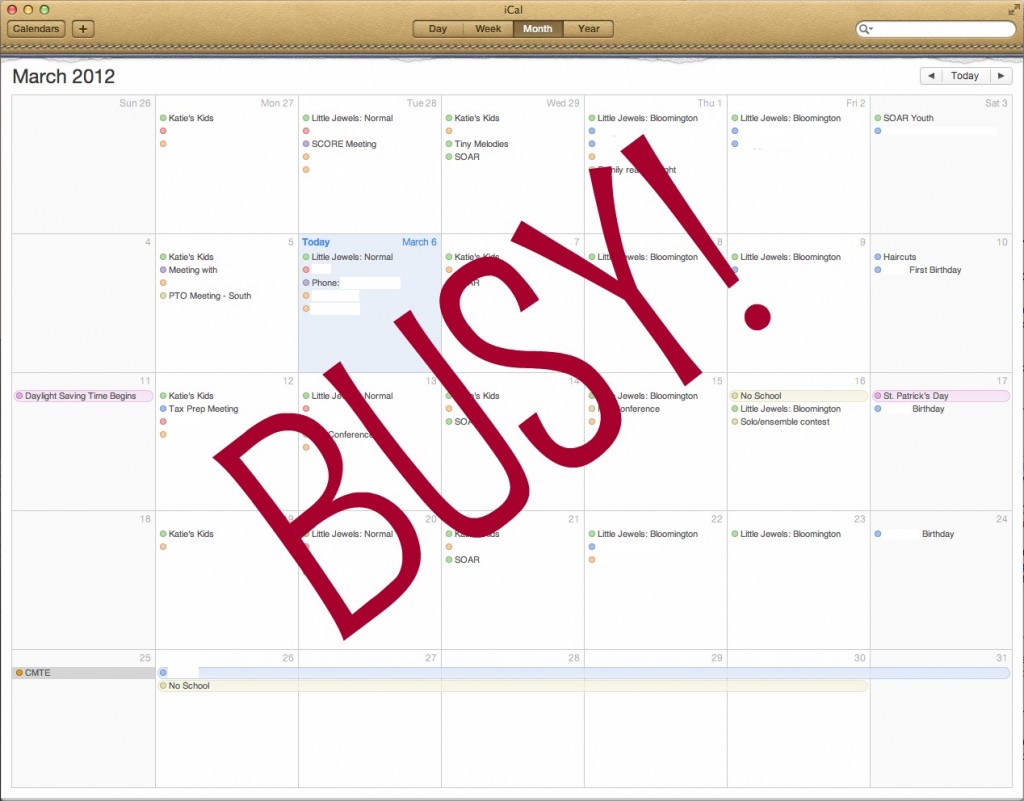 Wow.  Time is just flying!  I can't believe it is already March!  The Developing Melodies Family both Mom and Dad have been pretty active lately!  If you follow us on Twitter or Facebook then you know just how busy we have been! (You can also see it above… each colored circle represents a busy time, names have been removed) We apologize for the lack of posting, please don't leave us yet.  A new "real" post is on the way soon, but please check out many of the wonderful things we are doing!
Where to start????
We just finished up our third round of Tiny Melodies and am happy to report that there were several smiling faces at the end!  There was a session in there that had us all (caregivers and myself) leaving with our arms high in the sky asking "what wasTHAT?!".  But alas, families returned the next week and we had a very exciting and memorable session (in a very good way).  We are looking forward to starting the next series of classes in April. You can always sign up at Bloomington Parks, Recreation and Cultural Arts.
Today we got some really exciting news about a Music Therapy grant that was proposed.  Well… we got it!!!!  Recently, a counselor from a local agency contacted me regarding services for an individual.  After going through the estimate and describing music therapy and everything that it entails, she took the information and proposed it this morning. This means that I can now provide services on a short term basis.  I am very excited as this is the first grant we have been involved in and I hope it leads to more!  And we get to work with a great agency that does great things and I am so happy to be a part of it!
Developing Melodies is expanding!  We have our first official contractor (well, once the paperwork goes through).  But this will alleviate some of our stresses as we expand the music lesson side of our business.  So, now is the time to sign up!  Contact us about learning some songs on that guitar collecting dust in the corner or learn to tickle those ivories in time for a nice holiday sing-a-long with the family at Christmas.
In October, the American Music Therapy Association's National Conference will be in full swing!  This year, it takes place in our backyard; St. Charles, IL.  I have been asked to be a Committee Chair and will be heading the Professional Volunteer Committee.  In addition to being on this committee, I have also submitted a proposal for a concurrent session at conference with two of my music therapy colleagues.  I hope to be wearing several hats at this conference.  Cross your fingers that the proposal is accepted.  (BTW MT's, if you would like to donate soem time to helping out at the registration booth, please drop me a line.  I would love to have you on my team! Get in Touch!)
In April is the Great Lakes Regional Conference, taking place in Grand Rapids, MI.  I will be attending and setting up for the Illinois Association for Music Therapy table where we have some awesome raffles.  I am so excited, as this is my first regional conference in almost 5 years.  It usually lines up with our family vacation which is very important for our daughter, her grandparents and her great grandpa  (and us as parents as well).  This year I get to do both so I am happy.
We've been behind the scenes writing music.  More on that at another time.  For now you can check out the beginnings of our work here.
DevelopingDad (Mike) has been busy writing grants for some new instruments and technology in his classroom.  Check out his awesome project about Harmonics at DonorsChoose!
Mike is also coming down from a really awesome Family Reading Night at his school.  Each year the staff gets together and has a reading night.  Several groups choose a storybook and then invite the parents and children to come and watch as they perform the story.  He was a member of the "Flying Witch".  This is a great event and I highly encourage educators to put together something like this in your own school.
So I guess, busy is a relative term.  Try adding the above to the constant play time of an almost 3 year old!  (We've been successfully potty learning on the side)
What's new in your life?  Anything SUPER exciting????  Leave a comment about it below and tell us about your projects!