Welcome to our "Music at Home" series!  On the 15th day of each month, from now until June 2013, we will introduce you to a favorite children's artist, compilation or album that we think would be a great addition to your family musical collection.  The tunes are catchy, the rhythms snappy and the lullabies are dreamy.  For access to all of the posts in this series, click here!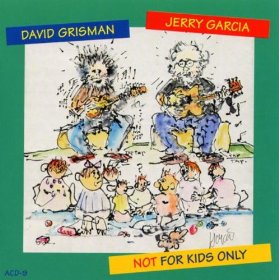 Apparently, many of my favorite groovy bands had the same idea in mind when they or their friends started to have kids… "Write Children's Music!"  Jerry Garcia holds a special place in my heart, mostly because some of my favorite times were surrounded by his music and his death left a significant void in my musical heart.  However, his music lives on and for that we are thankful!
Not For Kids Only should be a staple in your music collection, even if you don't have children.  The tunes are timeless and the picking is outstanding.  The beauty of these tunes is that in addition to the standard guitar and mandolin playing, the two incorporate several other instruments, most likely found around the home.  The sounds just invite children to play along!
A few personal favorites of Developing Dad and myself include Jenny Jenkins, Teddy Bears Picnic, and Ain't no Bugs on Me.
You can check out more tunes at Amazon!
*We apologize for the delay in this post as we have been extremely busy planning for Camp Takoda and Tiny Melodies and failed to look at a calendar 🙂  With one more month left in our series, we promise to bring it ON TIME!  Have an awesome summer!