Travel. Sickness. Server Breakdowns. New Contracts. New Clients. Enjoying Family. Fundraising.
*MY APOLOGIES!  You are all NOT forgotten, and are still so very important to myself and the rest of the Developing Melodies team.  There has been more going on behind the scenes this summer than we ever thought imaginable, and not once did I think it would interfere with blogging or newsletter writing, but it has… and I am so sorry!  How can I make this up to you?  What would you like to see here on the blog that will make everything okay?  Drop me a line and let me know!
Seriously though, we have been really busy.  We took our first REAL family vacation in about 6 years, which was very needed and very awesome!  DevelopingDad, myself and our daughter took our first cruise with my side of the family and have vowed that it would NOT be the last.  If you haven't gone a cruise, I highly recommend you remedy that RIGHT NOW!
In addition to our Caribbean vacation, we traveled back to upstate New York for our college reunion.  We joined several of our friends, with whom we spent many a late night practicing for recitals, concerts and being music nerds during college, and had a great walk down memory lane.  We will most definitely be attending our college reunion weekend again!
One of the biggest things we have been doing this summer is fundraising.  It all started when I was asked to join the St. Jude Runs: Bloomington to Peoria Team.  This experience is worthy of it's own blog post, which will come in the coming days, but I will say that this day was ridiculously fun, motivating, humbling and awesome!
Once this event was completed, I kicked it into high gear for our next fundraising endeavor, which is for the American Music Therapy Association.  I have pledged to raise $1000 by our National Conference in November.  I am running two half marathons in support of this fundraising, as well as holding several fundraising events: Yogurt Night at Orange Leaf in Bloomington, a Bookfair at Barnes and Noble, and a Garage Sale. Keep your eyes on the blog for more info regarding the events in September and October, but NEXT WEEK is YOGURT NIGHT!  If you are in the Bloomington-Normal area, show up!  Here is all of the info!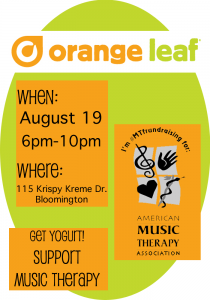 If you can't read the above information, here it is again:
WHAT: FroYo for Music Therapy Yo!
WHEN: August 19, 6pm-10pm
WHERE: Orange Leaf, Bloomington IL
HOW: Come in during the hours listed above and buy yogurt!
I will be on hand from 6pm-8pm to say HI and eat yogurt with you!
Would you like to help spread the word?  Contact me for a flyer to bring to your workplace or spread to your friends! We've posted it on facebook, so share it!!!!!
Are you unable to attend this great event?  You can always visit our #MTFrundrasing Page and donate there.
Okay, this post has gone on long enough, so I will let you go for now. Hope you have a great week!