Welcome to our "Music at Home" series!  On the 15th day of each month, from now until June 2013, we will introduce you to a favorite children's artist, compilation or album that we think would be a great addition to your family musical collection.  The tunes are catchy, the rhythms snappy and the lullabies are dreamy.  For access to all of the posts in this series, click here!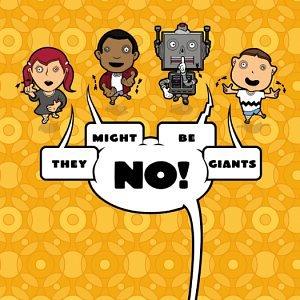 I have to thank Marcia Humpal, Board Certified Music Therapist and one of the leaders in our field when it comes to early childhood!  Several years ago, I had attended my first AMTA Music Therapy National Conference and sat in on one of her concurrent sessions.  While there were many intervention ideas and piece of knowledge that I took away, and have since used in many of my sessions, there was one song that stuck in my head for quite some time.  It is the simplest of tunes and it was a gateway to learning the NEW They Might Be Giants.  The song was Clap Your Hands, a rather quick tune to learn and play along with.
Now, I have known TMBG for several years, having spent many a HS afternoon at my friend Chris's house and listening to Istanbul, Not Constantinople, and other tunes, but just like several of the other artists in this "music at home" series, they are a brand new breed when it comes to children's music.  This next-generation TMBG offers the same classic sounds with more child-friendly lyrics and themes.
In addition to their album "No" (from which Clap Your Hands is a part), there are at least four other child-friendly albums including "Here come the 1,2,3's", "Here come the A,B,C's" and "Bed, Bed, Bed".
Be sure to check our TMBG on Facebook and Twitter for the latest news, music and fun!
What are some of your favorite They Might Be Giants tunes, new or classic?