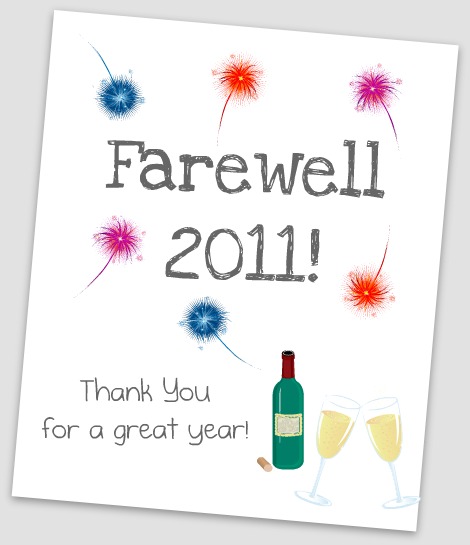 Professionally and Personally, 2011 was a year of exactly what I had described in the title above; Rebuilding, Renewal and Rejoicing.  Right from the get go, I knew that 2011 was going to be a great year as I had just recently conquered and won a tough battle with postpartum depression.  Having gone through such a difficult time personally, it was virtually impossible to be successful professionally.  It was exciting to start the year with a fresh outlook.
January 1, 2011, marks the one year anniversary of Developing Melodies (in actuality I received the certificate of ownership on December 27, 2010, but who works over the holiday?!).  I spent the rest of the year diving head first into every opportunity offered including publications, presentations and guest posts, expanding our list of services, accepting new contacts and promotional opportunities.
Here are TEN extremely awesome things that happened in 2011!
1. DevelopingMelodies.com was originally launched on January 30, allowing our local audience to find us on the interwebs and read all about what we had to offer. Most recently, after participating in Kat Fulton's Online Zennn course, we RE-launched Developing Melodies 2.0 (the site you see today), we we now focus on serving folks outside of our immediate community. We are excited to continue our development of the website and blog and look forward to bringing you even more in 2012.
2. We signed contracts with Little Jewels Learning Center, Katies Kids Learning Center, our Tiny Melodies program at Bloomington Parks, Recreation and Cultural Arts and our Recreational Music program at S.O.A.R.  Through these groups we have been able to offer music therapy and music recreation programs serving early childhood through adulthood. Thank you all for bringing us on board! Keep your eyes open for our upcoming programs in the early part of 2012!
3. We have been given the opportunity to write small articles for Bloomington-Normal's Macaroni Kid for several months.  Check out our posts about making music with your children here.  Thank you Melissa Alcorn for this opportunity.
4. I was happy to be a guest on both the Music Therapy Round Table and the Music Therapy Show with Janice Harris.  Here are the two links for the podcasts: The Music Therapy Show and The Music Therapy Round Table.  Thanks for having me ladies!
5. Recording the first GUEST Sunday Sing-Along with Rachel Rambach of Listen & Learn Music.  You can see the video here.
6. My first adventures in guest posting over at the No-Nonsense Professional (the latest internet baby of Natalie Mullis MT-BC) and The Music Therapy Tween (the home of Music Therapist and Crafty Lady, Michelle Erfurt).
7. Presented on the Social Media Advocacy Panel at the American Music Therapy Association's National Conference in Atlanta.  Thanks goes to Kimberly Sena Moore for leading and gathering this fantastic group.  Be on the look out in January 2012 for more advocacy tips and stories!
8. Eating dinner and enjoying the company of Ben Folds with the MTBFF's, Kat Fulton, Rachel See Smith, Ginny Driscoll, Jamie George, and Natalie Mullis.  I hope I get to rock out in a cab like that again real soon with all of ya'll!
9. Skype Drumming with the Students of the Illinois Association for Music Therapy and Kat Fulton of Rhythm for Good during the student retreat in February.  It was a great new experience and I highly encourage you to check out Kat's site to learn more about what it's all about.
and number 10 is super special…
Thank You to my husband Michael, with whom very little of this would be possible.  In addition to joining Developing Melodies (he teaches and coordinates all of our music lessons for guitar and piano), and making it the family that it is, he has provided the support and love behind the scenes and done everything a husband and father can do to help the home run smooth.  My daughter deserves recognition as well.  Aside from being a completely awesome model for most of the pictures throughout our site, she is also an amazing daughter who has grown up more in 2011 than I ever thought possible (and anyone who reads my personal facebook page knows about the recent events that have happened).  YAY to my family!  You are awesome!
I would like to extend my gratitude to all of those who have joined us in making 2011 a very hard year to beat.
We look forward to bringing you several exciting things in 2012!
Happy New Year!