It's been a busy few weeks as we prepped and cleaned up from our little angel's third birthday! Happy Birthday to the coolest three year old I know! It was full of rainbows, water and good food. It was a wonderful way to spend a Saturday afternoon with friends, both new and old. And it is certain that another party, regardless of occasion, will take place this summer!
After a bit of deliberation (choosing between letters and colors), Farrah decided on a rainbow theme.  It worked out perfectly!  DevelopingDad and Myself searched long for all things rainbow and came upon several ideas that we thought were perfect for the party.  Between the three of us (DevelopingDad, myself, my father and my mother), we created some fabulous party food, fun and decor!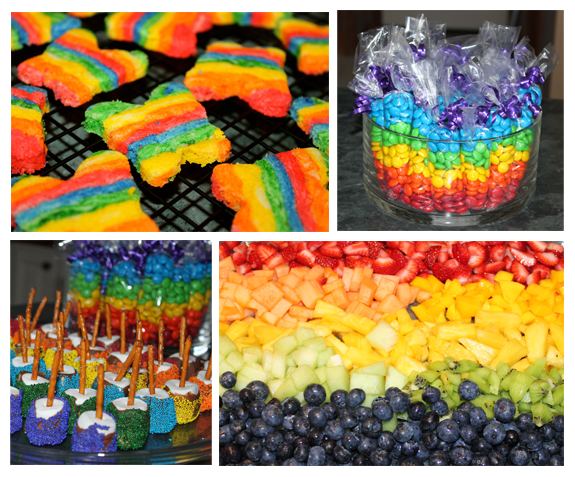 From left to right, top to bottom:
A. Butterfly Rainbow Cookies (adapted from this Pinata Cookie recipe): We originally decided to go full force with the Pinata Cookies (using butterflies instead of burros), but after spending almost three hours mashing dough colors and realizing that it was only HALF of the amount needed just the KIDS in the party, we changed gears and made adorable butterfly cookies.  Pinata Cookies: Good idea in theory, not so easy in execution.
B. Rainbow M&M bags: Another alternate route.  Having originally wanted to place glass jars like these filled with each color M&M as centerpieces, we changed our tune when we saw that single colored M&M's in a 7oz. package cost $7.99!  No way!  Using coupons and sales we bought three 56 oz. bags and split up the M&M's into colors, then layered the rainbow into baggies.
C. Chocolate Covered Marshmallow/Pretzels: Another project that originally had a completely different look. What started out as chocolate covered pretzel rods became what you see above.  An easier, pretty and much more simple endeavor.
D. Make your own Yogurt Bar: Having originally seen this idea on pinterest, I figured we could recreate it with a twist.  I'm a sucker for some good old fashioned yogurt (NOT frozen yogurt, although that is good too).  We bought tubs of plain and vanilla yogurt, scooped some into cups and let people pick out fruit of the rainbow variety to put on top.  We also had some chocolate chips on the side.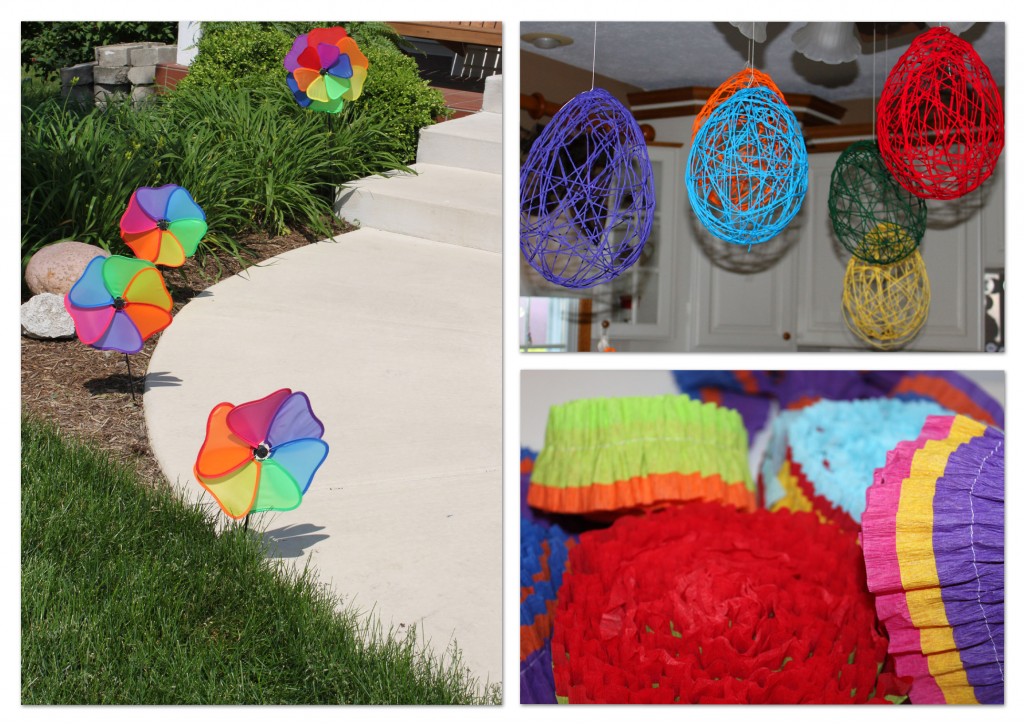 From Left to Right:
A. Rainbow Windsocks: We found these at the Dollar Tree, and Farrah just had to have them!  They worked really well as a decoration leading up the the house.  Our area tends to be really windy, so balloons often fall flat.  These are a great alternative AND we get to keep them the whole summer!
B. Stringed Balloons: Developing Dad worked really hard on these and they turned out FABULOUS!  Most tutorials out there are pretty much the same, but this one uses pretty colors 😉 HA!  We mixed equal parts elmers glue and water, cut string in 2 yard lengths and sprayed the balloon with PAM!  It's messy, fun and looks fantastic in the end.
C. Ruffled Streamers: I happened to see a tutorial these ruffled streamers sometime last year  and said "I will do this".  And so I finally did.  They were quick and easy and added a nice addition to the already colorful food and decor.  (PS. Anything that Dana does is awesome!)
From Left to Right, Top to Bottom:
A. Doodle Roll: I saw these briefly at a shop uptown and knew that we just HAD TO HAVE THEM in the goody bags. The deal was sealed when they showed up the next day on Zulily, one of the bargain sites I frequent.
B. Chalk Walk: I wish I could remember where I saw this idea first (my apologies to the blog I borrowed in from).  Anyway, we have the great wide walk and space for kids to draw, so we thought a rainbow activity (away from the pool) was in order.  Kids were invited to write/draw Farrah a birthday message.  Boo on me for not taking a picture of the finished product 🙁
C. Goodie Bags: We made sure to have ample sack space for all of the goodies for the kids.  And they made a great addition to the colorful decor as well!
D. Sponge Balls: I follow a great blog by Valerie and came across these one day and knew they would make a fun and perfectly colorful edition to the goodie sacks!  We picked up several packages of sponges at the Dollar Tree and a roll of dental floss and quickly went to work.  It took no time at all to make these fun and reusable toys.
E. Rainbow Pasta Necklaces: It was pretty hot outside on the day of her party, so we decided a nice indoor activity should be available.  I dyed pasta and cut string pieces for the kids to make necklaces.
F. I Spy Bags: I saw these on Etsy and couldn't resist.  When I saw the price tag I cringed.  As lovely as they are, I couldn't fathom spending that much (in addition to everything that we already had).  So, I set out to make our own.  It really took no time at all and was really inexpensive.  I believe I spent less than 80 cents per bag!
I would consider the party a success as judged by the huge smiles on everyone's faces!
We've shared our birthday theme with you, what sort of birthday fun have you had with your child?
Please share some ideas in the comments below!