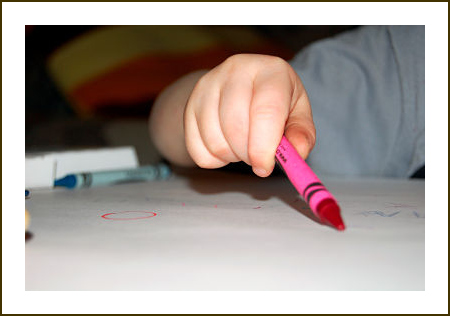 The holidays are here and the inevitable "I want…." is starting to come out.  Yes, I would love to say that we have tried to curb this behavior in every way possible, but kids will be kids and the "I wants" will happen.  This year, we have discussed that we can make a wish list which lets everyone know all of the things we are hoping to get.  We further discuss how there are more things on the wish list then can't fit in Santa's sleigh, Granny's car or Mommy and Daddy's closet and so it's possible that we won't get everything, but just some things.
She's okay with that!
But, this wish list…
How can a child write a wish list when they can't yet read or write?
Tools:
Sunday Inserts, Newspapers, Catalogues and anything else that has child friendly toy and material inside
Pen, Marker, Crayon (whatever writing utensil your child desires)
Activity:
Have your child circle any of the toys/games/music/clothing etc. that he or she may want.
As the parent, you can then transfer these circled items to a grand wish list (taking out doubles, removing the "not gonna happen in my house" toys).
Adaptations:
There are a number of ways to adapt this activity too! 
Have your child only pick out toys he/she doesn't yet have or have already circled(we have a number of strollers on our wishlist, as I did not set that limit).
Have your child only circle 10 items
Have your child circle things with a theme (Letters, Colors, Types of Toys, etc.)
Have your child circle toys that he/she would like to donate to Toys for Tots or another organization that benefits children and families.
This activity, which kept our daughter occupied for quite some time was a great tool to use during the "Getting Dinner Ready" time.  During the holidays our schedules are out of sync, concerts are abundant, and the excitement of the holiday takes our emotions for a great ride, and so this helped during those times when our daughter , who is typically content to help in the kitchen or play by herself for a few minutes, has become just a little bit more attached to mom and dad.
Additional Skills:
Look at the pre-reading and writing skills we are developing!
Pincer Grasp: Page Turning, pen holding
Drawing Circles: drawing purposeful shapes and lines will aide in writing development
Hand Eye Coordination: Connecting the circle, drawing around the picture
Overall Fine Motor Coordination
What ways do you encourage learning during the holidays?  Leave a comment below and tell us about one of your early learning holiday activities!