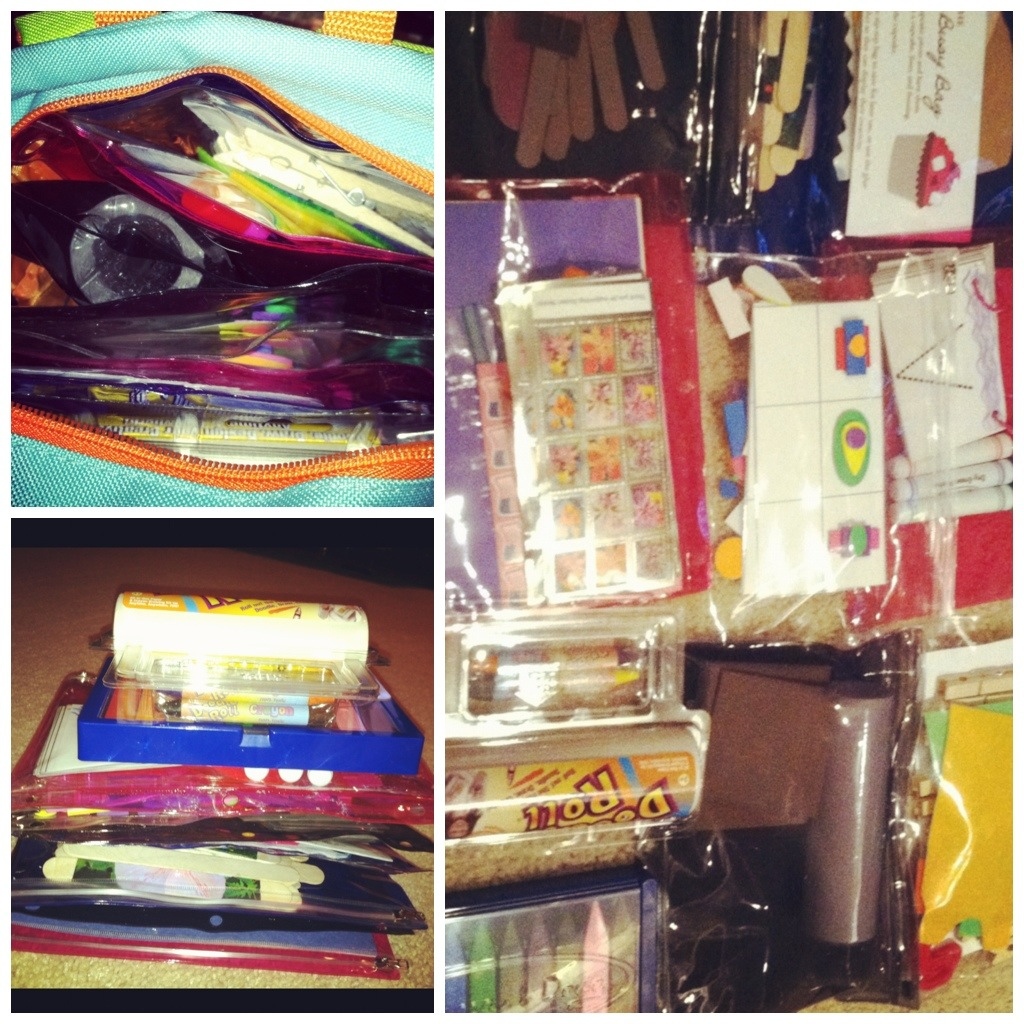 This post was originally written before vacation.  Needless to say, these busy bags were a big hit and we will be sure to use these often!
Later this week we are heading out on an adventure to the East Coast! We travel east every year, as most of the family still lives there, and each year it becomes more and more exciting and busy! (You'd think we had a child or something!)
This year, rather than driving, we had decided to fly. As a family, we find it easier to keep our child happy and tend to her needs on an airplane rather than in a car. Between gas and necessary hotel stays, it winds up being about the same expense.
Regardless of our mode of travel, we still need to keep Farrah entertained, busy, and learning (and not glued to a DVD). So this trip, instead of filling her bag with random toys, small things and movies, we planned. We will be bringing along about 8-10 small busy bags. I have been working on these bags for the past two days and really, it took very little time at all! Most of the supplies were in our ever growing craft stash and anything we needed to purchase I found on sale at Target and Michaels.
The most important thing to remember when making travel activities is to keep your busy bags compact! We bought a bunch of pencil pouches (you know, the ones that fit in binders) and each activity gets its own pouch. This keeps us organized too (Yay, double bonus)!
Here are the 10 activities we will be bringing with us for our travels:
1. Popsicle Memory Game: Lately we have been VERY interested in these memory games and this is the cutest and most perfect summer DIY memory game. PS. it's FREE!
2. Popsicle Stick Photo Puzzles: We printed out some pictures of flowers and a guitar (musical element) and followed the directions. These puzzles are great for the beginning puzzler!
3. Cupcake Busy Bag: What child doesn't like cupcakes! A great way to bake, without the mess!
4. Traceable Letter Cards: We just LOVE this cute take-a-long! We modified it just slightly. We downloaded a free font and made our own template in Pages. We then colored a small border on each card. Then we used our handy laminating machine to give the cards some durability. Cut them up, punched holes and voila!
5. Shape Matching Grid: We just loved this idea!
6. Clothesline Busy Bag: Farrah loves clothing and helping out around the house, so I couldn't pass up this opportunity to take the chore with us! I Haven't quite figured out where we will be hanging the string on the airplane, but I'm sure we will find some ideas when we get there.
7. Hot Glue Rubbing Plates: We love leaf rubbings and thought this was a nice way to leave nature on the ground, but still bring the activity with us. With a handy glue gun, this was all possible.
8. Glue Stick Paper Collage Fun: Farrah loves glue, and since it is considered a solid (as oppossed to the banned liquids on planes), we can bring a glue stick along. We put a glue stick, some cut up paper shapes and some paper as a base. Easy, quick and relatively non-messy. (We will steer clear of the chair in front of us).
9. Button Snake: I can't say that ours turned out this pretty, but it is extremely handy and fine motor friendly. We cut out several different shapes, rather than just flowers.
10. Doodle Roll: This self contained paper roll and crayon set was one of the best purchases made from one of the many discount sites we frequent. They are quick and easy to throw in a sack and provide double the fun (finish one side of the paper, turn it over and use the other!).
Do you have some favorite take-a-long activities for your child? Leave a link or idea in the comments below!